Do People of Color Know Their Rights When They Are Pulled Over?
Bookmark this
USBC Directory is the Largest Black Business Directory in the World!
In our ever-changing world, we have to be cautious and covered on every end. Have you had some minor legal woes? Have you had to spend hundreds or thousands of dollars in court cost or traffic infractions?
Do you have sufficient legal coverage? I know you're probably thinking, "I don't have room for that in my budget." However, you also didn't expect to have to pour out that money in traffic tickets.
Legal Shield has the tools to assist you and also help you keep more money in your pocket. Alistair Edwards, vice president and executive director of Legal Shield Business Solutions of Kennesaw, Georgia is ready to assist you. Mr. Edwards has gained many years of experience while serving in leadership and management at Publix Supermarket.
"I have children in college and I would like for them to be covered while they are not with me. It just makes sense," Mr. Edwards continued to tell the US Black Chamber of Commerce staff member.
In 2009, he retired to pursue a full-time entrepreneurship with Legal Shield. Through his business, he has helped many individuals obtain coverage.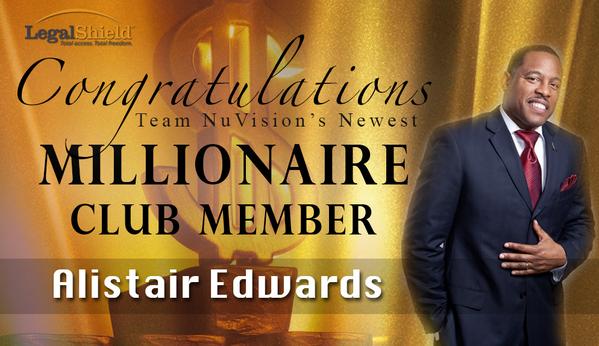 "You would be surprised to know that some individuals don't know their Miranda rights"
Mr. Edwards stated this to a staff member of US Black Chamber of Commerce.
To sign up, you only need to pay a small fee of $24.95. You will receive great benefits such as free wills, court representation, attorneys speaking on your behalf, legal letters sent on your behalf, and more. In addition, you will also have the opportunity to call in and speak to an attorney at any time of the day without cost. You will receive on demand assistance for those moving violations and other minor legal issues. Think about it; no where else will you get this amount of free knowledge.
You will also have access to the Legal Shield attorneys in more serious issues. You would receive 25%-member discount. Other perks you would receive are hotel, product, cell phone bill, and other discounts.
If this sounds appealing, go to www.alistairedwards.com to learn more. Also, connect with him at alistairedwards@legalshieldassociate.com to sign up for these great benefits. Don't delay! Take advantage of this great opportunity!
Millions Two One is now "USBC Directory!" Through a venture with the US Black Chambers, Inc. along with the associated 123 Chambers and Millions Two One, LLC, the Largest Black Business Directory in the World, a partnership has been formed to create, USBC Directory. USBC Directory is the best way to find Black businesses in your local area and around the globe! More than 100,000+ Black-businesses, USBC Directory gives users access to Black-owned businesses, Black organizations, Black news and Black entertainment in the United States, Canada, the United Kingdom, the Caribbean Islands and in Africa. Search our directory of Black-owned businesses to locate Soul Food, African American Museums, HBCUs, Black-Owned Banks, Black Hair Salons, Black Churches, Black Doctors near you! New York Black businesses, Chicago Black businesses, Atlanta Black businesses, Washington, DC Black businesses, Miami Black businesses, Los Angeles Black businesses, Houston Black businesses, Dallas Black businesses, Baltimore Black businesses, Charlotte Black businesses, St. Louis Black businesses, Memphis Black businesses, Philadelphia Black businesses, Boston Black businesses, Kansas City Black businesses, Milwaukee Black businesses and more are listed in the USBC Directory! Use USBC Directory to support Black-owned businesses today and everyday!
---