Black Owned Bathroom Tissue Paper Company
Bookmark this
MillionsTwoOne.com is the Largest African American Business Directory in the World!
At the age of 4, Kamose Muhammad told his Mother that he wanted to be a businessman. He then set out to become, as he calls it, a Serial Entrepreneur. In the early 1990s, Muhammad took a buyout from his job and later sold a cleaning company that he owned and used all of the profits to open a Supreme Paging and Communications store. Muhammad sold pagers, cell phones, body oils and clothes. Business was so great that he opened up a second store and ventured into real estate.

As Muhammad explains it, seeds of Freedom Paper Company were planted in him during the Million Man March in 1995. "We were given instructions by the Honorable Minister Louis Farrakhan to do things to benefit the community. In 2010, I participated in the Million More Movement, which is a movement that was developed to examine the struggle of Black People in America and the world, assisting us in developing what we need as a people by solidifying solutions through organizational processes; thus creating the means to build ourselves up toward self-reliance and total independence. I then began to economically study our problem."
During this time, Muhammad began to find great success in the real estate industry. "When the recession hit I was in real estate really heavy and I was moving into becoming a developer. I took a big hit during the Great Recession and lost hundreds of thousands of dollars." It was at that point, that Muhammad had to go back to the drawing board.


Later, Muhammad became the chairman of the Ministry of Trade and Commerce of the Millions More Movement and began working with an organized group of individuals that focused on economic issues impacting Black People here in the US and abroad.
Leave a Review and tell us what you think about Freedom Paper Company - Click Here!
"I studied the paper goods industry for about 9 months. We found that there were few distributors, some major African American distributors, but no manufacturers. Our group took a vote in which we put forth the idea about the paper goods industry and everyone agreed that it was a good idea. We had quality control professionals, individuals in technology, business management and in marketing. All of these individuals brought their skills and helped us to get a good start on Freedom Paper Company."

How did you know that the people that you were working with in the beginning were serious and would really come through?

"You don't know, but you have to try. The challenge with us as business people is that we do not try enough. One of the adages that we say at Freedom Paper Company is that we have to find a way to say 'Yes'. We have to find ways to do business. We have to find ways to overcome the impediments, hurdles and obstacles before us, particularly with each other. We have to do that. If we don't, we're going to die out," Muhammad passionately expressed. "We were fortunate in the beginning that everyone was on the same page. We understood that challenges would come. True Partnerships are marriages without love."

In developing their initial bathroom tissue which is their flagship product, Muhammad noted, "we took surveys and began to understand what the qualities were that people wanted for their bathroom tissue. We incorporated those qualities into the Freedom brand bathroom tissue. Freedom bathroom tissue is economically sound, offers more sheets per roll and is environmentally friendly. It's also absent of dioxin, which is a chemical byproduct of the virgin paper manufacturing process. That chemical dioxin is also the chemical found in agent-orange. So, we don't have that. Our product is people-friendly and we have an 80% likeability. Many people have called us and said that they will buy our products because of our reviews."

In year two, Freedom Paper Company began to diversify and started manufacturing paper towels and facial tissue. "We have four major categories that we service with over 800 products at large. We have paper goods, commercial and residential, Jan San residential commercial cleaning products, such as floor wax, we have the full line of products that people use to clean their homes; such as trash liners, soaps and sanitizers. We distribute food service products that restaurants, caterers and carryout's use. We also distribute stationery such as copy paper and file folders."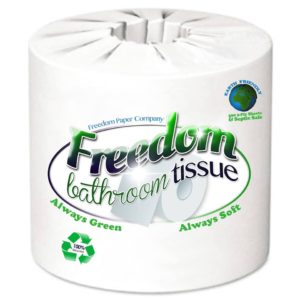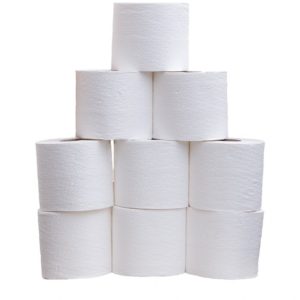 In their fifth year, which began May of 2016, Freedom Paper Company has become a full-fledged paper product service company servicing all of those goods that people use in their homes and in their businesses. "Year one was exciting, robust and a struggle. We worked very hard and started touring the country telling people about the company and what the company represented. We made a big mistake in the beginning believing that when we made a Black product Black people would [immediately] start buying it."

"Bathroom tissue in the US alone is $2.5 Billion industry. If you put a company like Freedom Paper Company whose principled ideology is not capitalism, but wealth creation and wealth circulation, our objective is to be in business and to do good at the same time. Utilizing the capital of the company to grow the company, to hire people and to reinvest those dollars back into our community. What would that look like if we had just 10% of that $2.5 Billion? That's $250 Million." Muhammad asked, "What would that look like circulating in our community and building up infrastructure?"
Leave a Review and tell us what you think about Freedom Paper Company - Click Here!

"One of the things we've been able to do is hire our youth. Particularly those who cannot get hired in other places. At one point, we had a particular project that we were working on right here in Baltimore. We hired some young men in their late 20s that told me that they appreciated me because they had never had the opportunity to work. These were men that were 27, 28 and 29. They were intelligent men. Some of them had degrees, but they had been in the streets. They were ex-gang members."

"In Marin City, CA, we partnered with an organization called the Defenders, which is a training program for at-risk youth 12-19 years old. We helped to add an entrepreneurial training mechanism. The program is beginning to empower them, teaching them skills. Allowing them to see that they do not need the streets as a way of life. They can be functional, responsible, productive and successful Black men without the streets. That they can do business. We have also given scholarships to some of the private, African-centered schools. We've done that and we want to do more of that."

"Freedom Paper Company is having very good growth. We are growing at a rate of 28-35% a year. As business people, we are in business to make money, but while we are making money, we must do good. I have always had that as a real commitment. Ours is not to follow the mindset of others who simply want to get rich at all cost. Ruining the people and the planet only to fill their pockets for power. Ours is to be other than that. To use what we have been blessed with to empower ourselves and others."

"Freedom Paper Company is a grassroots oriented business. We look for Freedom Paper Company to be a company that lasts from generation to generation building to the point where we can begin to hire our individuals that are coming out of college and advancing the cause of Black economics throughout the world."
Log onto Freedom Paper Company at
www.freedompapercompany.com to purchase your next order of paper goods.
View Freedom Paper Company's listing on Millions Two One -
If you would like Millions Two One to feature your business to thousands of our readers, click on the following link or email us at info@millionstwoone.com.
Millions Two One is the Largest African American Business Directory in the World. Millions Two One is an online and mobile application platform that gives users access to Black-owned businesses, organizations and entrepreneurs in the United States, Canada, the United Kingdom, the Caribbean Islands and in Africa.
---